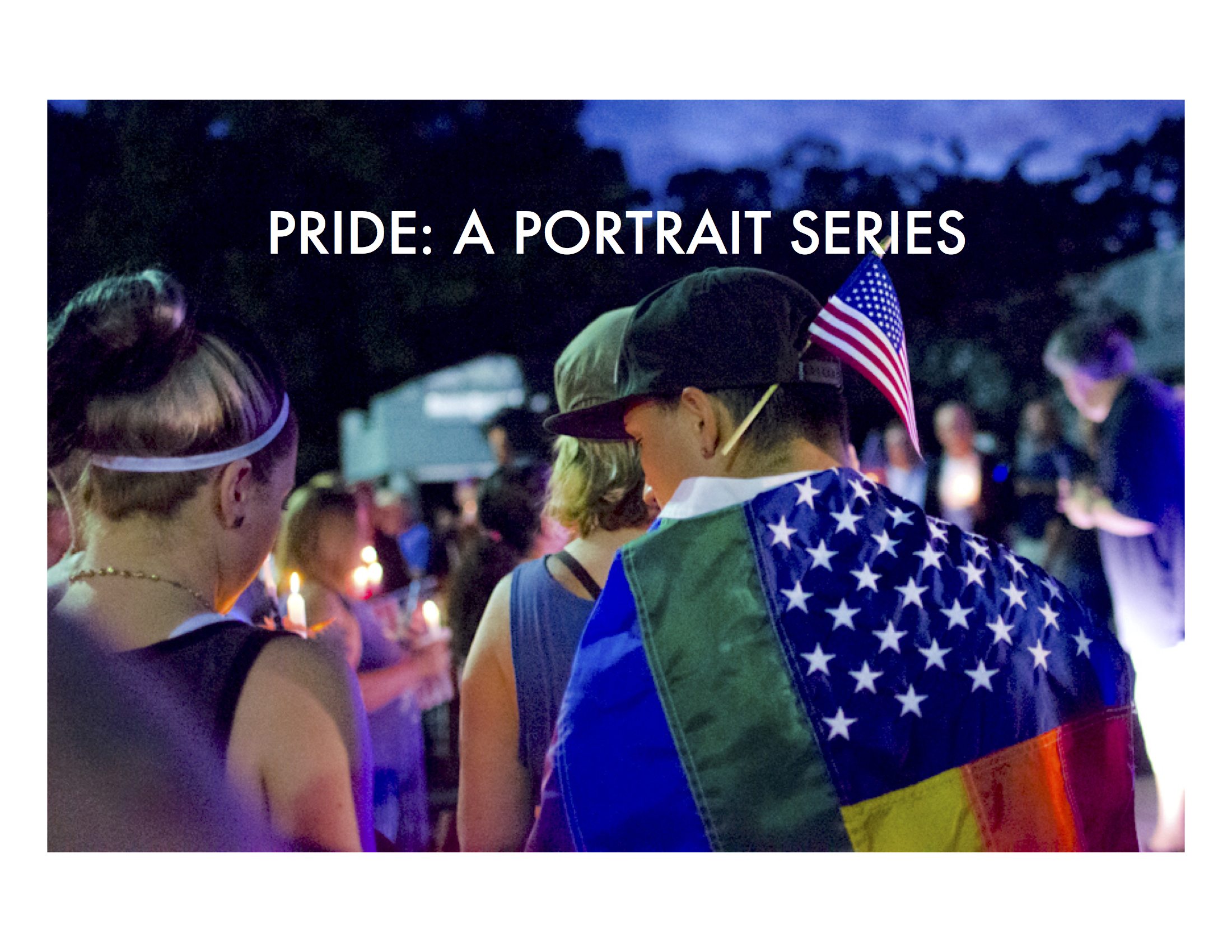 PRIDE is a portrait series of the LGBTQ community in the Hampton Roads area of Virginia. It was photographed from January to June of 2017, and was commissioned by AP_Math for Hampton Roads Pride. The stories included in this series are in the participants' own words.
This image is from "Love Unites," the candlelight vigil for Orlando, organized by Hampton Roads Pride on June 12, 2016.
Daphne Lynne
My greatest hope is that the day will come when our value is no longer judged by how well we can "pass" as cisgender rather than transgender individuals. That we will no longer have the need to compromise and reconcile with politicians and preachers who only seek our erasure from society. That we will not be the last footnote of LGBT rights. That the day will come when we alone define our lives, speak with our own voices, stand on our own feet, and raise our own fists without fear or apology."
Tommy Reginald Bennett
To be or not to be, confused Hamlet, but it never confused me. I have known I was gay ever since I could spell the word "gay." For me, I was fortunate to be born in a family that supported me and taught me that the true measure of a man is how he loves all persons despite their differences or what other people might say. They gave me the courage to endure taunts of the "n word" and "f word" during my daily walks to school. I am a Christian and a true believer that God made me and he knows who I am.
Otis and Ryan Owens
I think the thing that resonates the most for me when it comes to Ryan is that he accepted me early on as being his gay father. No questions asked. We lived in the country where we were both unique to our environment. There were days when he headed out the door to school in all black and leather pants. I have to be honest in saying I was quite fearful for the ridicule he might endure. I had to let him be who he is and he let me be who I am. Being accepted for who you are… That's the best kind of love there is.
Dani Spratley
I am a peaceful rainbow warrior, with a zero tolerance for foolishness, tomfoolery and shenanigans. Here I stand on the frontline alongside my Sis-Starine and Brethren for the positive, conscious, compassionate, elevated advancement of humanities continuum. Nature is our refuge, life is a duality, an unorthodox balance of creation and destruction; find your middle path. Devote yourself to compassion because love is only real when shared. Through the pondering lens of prose and philosophical poetry I extend my reach to thee.
Ellis and AJ Pawson
Ellis and I been a team for 9 years, married for 7. When the two of us are not expanding our knowledge and traveling around the world, we're volunteering our time to the Mentoring Young Scientists Program at the Virginia Aquarium. Activism is more than being present here in our local community to us, but to our representatives at all levels; local, state, and federal. As Henry David Thoreau once said, "It takes two to speak the truth - one to speak and another hear."
Howard Bunger
I joined the Knight Hawks of Virginia because I missed the camaraderie I had when I was in the Navy. The Knight Hawks are more than a leather Levi fetish club, we fund raise for all of the local LGBTQ charities in town as well as Toys for Tots during Christmas and a canned food drive to support the local food bank for Thanksgiving. There's a whole world of leather clubs that do the same, and it makes me proud to be part of it!
Sergeant Shelly Meister
We both entered into the law enforcement profession with the goal of helping people in their time of need. Being open and honest about our relationship has led to incredibly rewarding experiences and allows us to perform our duties without constraint. Knowing how fragile life is puts a lot of things in perspective, and we know how important it is to let the little things go and live life in the moment.
Tony Caballeros
I have always been the person that just likes to make people come out of their shell, and truly see others smile and laugh. For a while (when I was a teenager), I was so full of angst, until one day I was honestly tired of being that way. Why should people be so negative? So I decided from then on I was going to be the person that likes to spread smiles, laughter and love to whoever I meet, where I go.
Nicholas Carinci
Doing hair and makeup saved my life. It swung open the door to my gender fluidity, and helped me express how I felt inside. It also gave me the opportunity to help the people in the Hampton Roads community feel the same sense of beauty and confidence that I felt the first time I ever put on lipstick.
Ryan DeCorpo
Being a bisexual married man with kids it is tough in this community but I strive to be myself and not let anyone treat me the wrong way. I lived most of my life living a double life and it was not healthy in any which way. So I say live your life the way you want no matter what, you will feel so much better and have a happier life. You never know how much love and support you will get until you actually be true to yourself. My family has accepted with open arms and I strive to teach my kids to be loving and kind to every single person that may cross their path. Love is love no matter who it is- follow your heart.
Chase Graves
My name is CHASE..but friends call me Rome.
Cutting hair has been my passion for over 20 years. I am an artist as well. No specialty just anything creative. I'm a navy veteran. Just reached the ripe age of 38. Currently living in Portsmouth Virginia
Jaime Anne Stykeman
My name is Jaime Anne Stykemain and I am 61 years young. As a transgender Woman, and having a twin sister, I have always felt like a girl since birth.
I will never let anyone put out the light in me because I know I shine bright enough to bring in a ship at sea in stormy seas. Let your light shine on and be strong.
Victor Martinez Domingo
This year is when I start the process of getting my citizenship—a rather interesting time to be an immigrant in the US. I told my coworkers that I had to take an oral civics test. One commented, "You'll know more about our history now than the average American…" My supervisor, (challenging the notion) said, "I don't believe so." So we thought we'd have some fun with it and play "Civics Jeopardy" to see if it's true. I think I'm going to let them win.
Raheim Robinson
I am a Dare Devil that does things that others are to afraid to stand for. A Fun Fact about me is that I raise my sons the same exact way that I raise my Teens at the Boys & Girls Club.
Elizabeth Gordon
I come from a super smart, funny, opinionated family. My grandmother on my dad's side worked for school desegregation in South Carolina; my mom volunteered for the McGovern campaign in '72. In the last year, I've gotten more involved with activism, but it hasn't been 100% smooth sailing - I think any time you raise your voice and really speak your truth, someone is going to be uncomfortable with that. A few weeks ago, on a pretty rough day, I got an e-mail from my grandmother saying that she's proud of me for my organizing. I bawled. I'm really lucky to have so much support and inspiration all around me; that's the well I draw my energy from to keep fighting.
Jane Marshall
My hairdresser use to be on the second floor with no elevator. I'd crawl up the steps, because no obstacle should ever come between one and great hair. Life is a journey. It's challenges are the air that breath life into it.
Natalia Ramos
I cut my hair to not only donate it for a better purpose, but to feel more like myself. To be twenty-five and a hispanic-latino lesbian, I've finally found myself not fitting into the standard of a what "should" be a female dancer. With the loving support of my family and friends I can finally dance happily and freely no matter what floor I'm on."
The Rev. Dr. Marguerite Alley
Whenever I drive into a new town I look for a specific road sign. It is- "The Episcopal Church Welcomes You." For me there is a difference between tolerance and acceptance. Most often, I have found acceptance and welcome in the Episcopal Church.
Katelyn O'Conner
Martial Arts has been a big part of my life for many years. Now having transitioned at 47 years old and having been away for several years, I feel more compelled than ever to make my mark in this male dominated world. It wasn't until after I transitioned that I realized the way we teach women self defense techniques (and the techniques themselves) are to be used by men against men. I am going to change this, and empower women to be bold and confident in all things they do.
Cox High School GSA
It was an honor to be a part of such a historical celebration of our LGBT students. I'm so proud of the students who worked to make this event happen in order to help our student body and community understand more about the importance of GSA (gay/straight alliance) and support needed for our LGBTQ students in schools. The support we gained from our community was inspiring. I'm so grateful for all the student, parent and community report we received as a club and I received as a faculty adviser. - Vee Milosevich
Miriam Millem
Being a single mom is so much fun!", said no one ever. In fact, it's challenging, and time-consuming, and doubles the pressure to be a good parent. Oh, but the rewards are great. I get to teach my daughter that beauty radiates from within and shines from her eyes and smile, and that photoshopped perfection is not an image to strive for. I get to encourage her creativity, curiosity, courageous choices and exploration of the world. We find our fun at festivals and events, theater and concerts, beaches and gardens, because education doesn't stop when her school day ends. And I am honored to share with her a world where love is love, people live an authentic life, and her future is unlimited by boundaries and social constructs. And, I get to love her, which is the greatest reward of all.
David Ramirez
Growing up my safe haven was my room. The four walls that surrounded me provided safety from the reality that was taking place outside of my door. I would look into my mirror often and staring back was a "David" that really wasn't being himself. As a volunteer for Queeriosity T.R.U I'm able to see the happiness expressed by our communities youth because they have found a place where they can truly Be Who They Are.
Jacki Paolella
I've said this before, but I've read articles suggesting that the production side of the music industry is less than 5% female. I can't find much info at all about what percent identify as LGBTQIA. I am honored to represent this tiny slice of the audio producer pie chart in Hampton Roads, and I just want to remind everyone that our identities should never be road blocks to our ability to succeed, that we can overcome them, and that our identities do not necessarily affect the quality of our work. Unless we are talking about fierceness, in which case, yes, the quality does increase in this respect.
Kelly O'Clair
Marine and Having been on Active Duty as a Marine during "Don't Ask Don't Tell" and after the repeal of it; I always wanted my children to understand we are all different and that's okay. It takes all types of people to make the world go round. I never wanted them to be ashamed of who I was, I raised them to be strong, independent and stand up for everyone.
Brandiin Valentine AKA Chef Val
My name is Brandiin Alexander Valentine. I go by Val for a lot who know me. I'm a straight transgender male (being trans is not a sexuality) within the LGBTQ community.
I've been cooking since the age of seven, and am basically self-taught. I also learned from parents, grandparents, and other chefs in the culinary field. Cooking is my passion, and as long as I can put a smile on someone's face when they try my food, that's all I need to feel good about what I do.
I hope to open and run a nonprofit organization one day to help feed those in need within Hampton Roads. Feed the soul, and you end up with a smile as well as a full stomach.
Sarah H.
People think that when you come out as gay, you're turning away from God. But that's not true. Since I've come out, I've actually felt closer to Him than I have in years. I'm not angry about being gay anymore, it's how He made me. And when you get to let go of all that anger and separate from people who make you feel like a mistake, you create more room for Him and others to come in and love you.
Jason Armogida
Spending most of my life in cities like Asheville and Denver, it was only natural to love the outdoors. I was usually found on my bike around town or lost on the trails. My passion for fitness and activity is not just limited to myself, but i like to associate with other people who live active lifestyles. As a small business owner, I've learned that the most fulfilling things in life are those that require you to invest your personal time and energy; your family, your business your community. I've made it my personal goal to help members of our community find and pursue their own passion for active living.
Venus Adams and Salem Brado
When we first started crushing on each other, I saw on Salem's Instagram that it was traditional in the past for sapphic women to gift each other violets to show their interest. So after a couple weeks, I gave them a violet scented bubble bar to try to hint at my feelings. They didn't get it at first, but here we are a year later.
This year has been an incredibly freeing experience for us. We both identify as non-binary so there's no pressure to fit into any pre-conceived dynamic. We have complete freedom together to express ourselves however we like at any given time and have supported and pushed each other to be the truest versions of ourselves in both bodily form and mind.
Burt McManus
In 1985, Lady Luck stuck her leg out and tripped me into a bartender summer job at the Hershee Bar. That choice led me into a heart shaped career. I guess it became the endless summer. Blessed.
Bill Calvert
My fiancé and I have spent our lives around the Chesapeake Bay, the gulf coast of Florida and on the Great Lakes. We share a love for the water and enjoy boating and exploring the beauty a coastal community offers. Great friendships have been made with fellow LGBT and allied boaters which formed the Pride Boating Club of Hampton Roads. The club and other boaters contribute to the unique flavor and success of the Hampton Roads Pride celebrations with the annual Pride Boat Parade, the only pride boat parade in the country! Our LGBT community is strong and visible and we are so lucky and proud to be part of it.
Patsy Duren
My LaLa, thank you for giving me 34 years of joyful bliss. Everyday was an exciting new adventure with you, my beautiful hero. I know you have your own Broncos squad up there and you are showing them how to make sopapillas. That's my girl! Keep sending me those awesome signs. Your love will live on in my heart, forever, until I see you again. Patsy xoxo
Loriely Layne
My mom was poor as a child in the Philippines, and my dad was raised on a modest farm in Ohio. Growing up in these two cultures, I often struggled with my personal identity. It was hard to find the balance between being the "nice Filipino girl" I thought I was supposed to be, and being the "American" I wanted to be. These two sides were at odds with each other—exact opposites—and their tumultuous battle for dominance would continue inside of me as a young adult.
Fast forward to the woman I am, now. I'm much older, wiser, and while far from perfect, I've learned to accept who I am. I've come to love myself more than I ever have. The battles inside of me have become a source of personal strength and spiritual growth. The differences, internal struggles and "shortcomings" now serve as my inspiration to love others more fiercely and without regret. To place kindness above all else. The truth is, I love you and see your beauty even as you've hurt me; because my heart has become beautiful and no one can take that away.
Martin Thomas Jr.
I support Hampton Roads Pride because I want my children to grow up in a world where people aren't judged or discriminated against because of their identity. My wife and I have taught our sons to celebrate diversity, not to bully and manufacture hatred or bigotry.
As a City Councilman in Norfolk, I strive to reassure the LGBTQ community that Norfolk is and always will be a safe place to live, work, and play. Since my election, we have adopted laws and policies outlawing discrimination by the City and its contractors based on sexual orientation and gender identity. We should and will continue to expand those laws as the State and Courts allow.
Catherine Foxworth
I started doing drag in 1987 at the Oar House working for Dick Ledonne and Lee Bozeman.
Diana Rhoss, who I've known for 30 years, has been a fabulous mentor, as well as, Lauren Patterson (Gene Pugh) who was my drag mother.
Over the years, I've done several womanless beauty pageants, and won Ms. RELAY in 2010. I've performed with Diana in numerous charity shows at The In-Between and The Hershee Bar, to help raise money for cancer and AIDS. Because I've lost several friends and family members, I've become passionate about fighting these diseases.